Business Model Canvas (BMC)
The nine criteria are subsets of four major categories in the business model canvas:
Infrastructure
Offering
Customers
Finances
Each major category is comprised of one or a few criterion.

Colorful Business Model Canvas Strategic Planning Brainstorm by Yuditra Farmana
Infrastructure
This section is all about the things you need—people, processes, technology, and partners—to run your business.
Key activities. What does your business do? Are you managing large software teams? Do you have to manage a large supply chain? These are activities essential to the business. If your business is a salon, for examples, your key activities might be hiring and training staff, cutting and styling hair, opening and closing the shop, sending emails and offers, and making thank you cards to improve customer relations.
Key resources. These are the things you need to perform your key activities, in order to create value. The key resources of a salon are staff, a physical location, marketing, and customers. Which resources do you have that are unique to you and give you an advantage? It might be an excellent 3-year contract on a prime downtown property because its owner had to sell quickly. It could be that you get discounted hair products from the manufacturer because you worked there for 15 years or negotiated a deal.
Partner network. These are people in your network who can help you. People reading your business model canvas like to see that you are not a lone wolf, starting from scratch. They want to see you have support. They want to see that they are not the only ones who are signing up to help your business succeed. The partner network is the place to brag about who you know. These can be team members, suppliers, marketing avenues, etc. Anyone who is on board to contribute to the business.
Offering
This section explores the value you offer.
Value proposition. Your value proposition is the most important component of any business. Why are you valuable? If the business provides no value, then, why? Why should anyone buy into it? Why should anyone support it? Why does anyone need it? This value needs to be directed at who your business serves in the marketplace. The proposition is not why you are valuable to the readers and the investors. The value needs to be directed at who your business targets. Google helps people find things they wish to know. Apple makes elegant, simple products designed to work out of the box. Your salon cuts and styles people's hair.
Customers
This section is all about your customers: whether, where, and how you talk to them and they buy from you.
Customer segments. These are the people to purchase your product. It is helpful to think of your first customer. In the end, you may want everyone to be a customer, but, right now, who will be the first person to buy your product? Customer segmentation can be categorized by demographic, geography, social class, financial class, personalities, etc.
Channels. How do you meet your customers? Do you go to them? Do they come to you? Channels could be Twitch.tv for a media platform. It could be a writing contest for a Hack-A-Thon. It could be the business location for a coffee shop. It could be a website for a microservice. It could be engineers' Twitter accounts for any software company. The channel is a pathway of communication that links a community to the business.
Customer relationships. What kind of relationship do you want to have with your customer? What is the relationship's nature? Transactional, personal, automated, self-service, community oriented. A vending machine is self-service. Major cloud providers are mostly self-service. They lack in support so much that other companies can be built entirely around providing customer service for their platform. Other cloud providers are popping up, too, whose business' value proposition is that they have phone-call customer service—a unique value for certain categories of customers.
Finances
The finances section really wants to know your income statement. What are your costs and how do you bring in money?
Cost structure. What are your company's costs? Income statements do a good job of putting expenses into operating expenses and capital expenses, and that can serve as a good model for this part of the canvas. Operating expenses are the day-to-day costs of doing business. At the salon, it would be largely labor costs for hiring stylists to cut hair. Capital expenditures would be costs associated with stocking shelves with hair products, rent costs, and electricity costs.
Revenue streams. Finally, how does your company make money? The salon makes money by cutting and styling hair. They maintain a register to sell hair products. Maybe they create distinctions in their stylist offerings and do normal cuts, styled cuts, perms, colorings, and events like weddings or model shoots.
Business Model Canvas Examples
By using Business Model Canvas Examples, we can evaluate business models and identify just what changes need to be made to the model in order to ensure growth and success. In addition, analyzing Business Model Canvas examples and being able to study success stories is beneficial to be able to apply it in different industries.
MoviePass
Let's take a look at the BMC Example of the MoviePass company, which launched with the idea to sell a monthly service to the general public for daily movie tickets at major theater chains for a flat monthly membership fee. The company reasoned that they could benefit two groups, the average moviegoer would be able to see more movies and movie theaters themselves would see better attendance.
In theory, it sounds like a reasonable concept, but in reality, MoviePass had not developed a functional business model which resulted in a poor performance against new technologies. There was no constant evaluation to keep track of their cash flow, and how by failing to keep the company growing fast enough, it couldn't support the necessary costs. Perhaps if leadership had followed a BMC these issues may have been recognized earlier.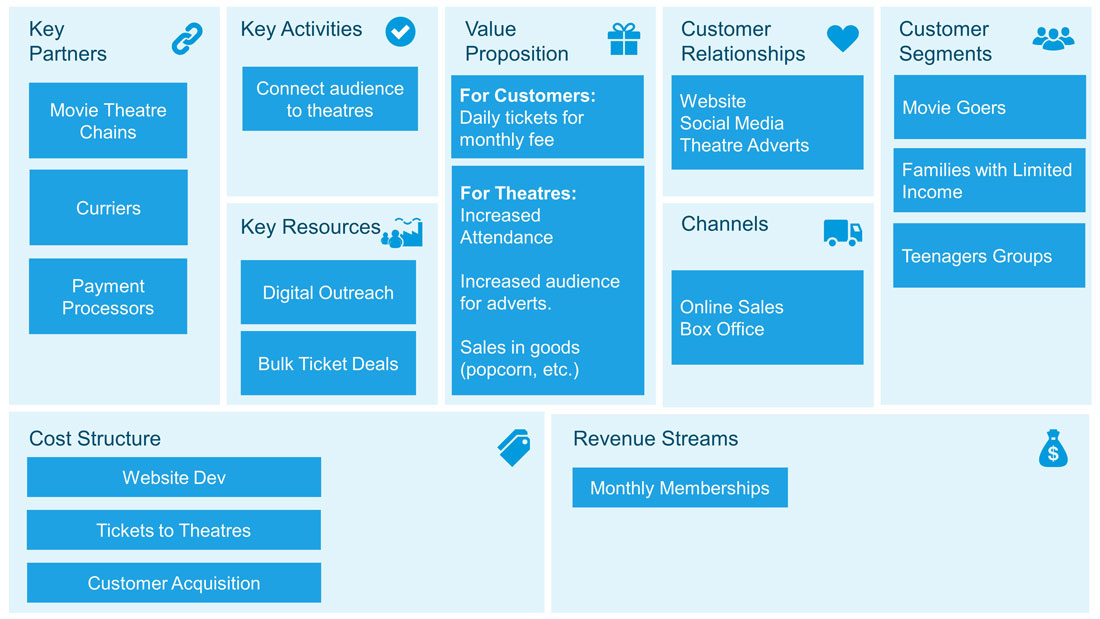 By using the BMC, MoviePass could have visualized earlier that the business model was in need of a pivot, a change to a section of the model in order to address an issue. In MoviePass case, areas like cash flow and customer acquisition had some gaps that required a solution. Had the company been more aware of their business model, they might have seen a need for a Minimum Viable Product (MVP) where they could test the results of their ideas with a few early adopters.
An MVP is the bare bones of a product or service that can provide invaluable information about how a small group of customers reacts. By having a testing period of limited engagement, a business can limit cost while drastically improving knowledge on how to proceed. Had MoviePass used this, they might've been able to observe early on that some customers used their service to the max, purchasing a movie ticket per day, far outweighing the profit of their service from the cost of providing it.
The pivot would adjust to their business model, and a new MVP could be created to test the new approach. This new iteration of the business may have changed the original direction of the company. Through each pivot and each new iteration of the model, MoviePass BMC would adjust accordingly, allowing an easy method in which to keep track of the major changes without getting overwhelmed in all the details that lay underneath each educated decision.
There are, however, examples of well-crafted business models that can be observed on a BMC. Let's take a company that has spread its business model all over the world and has undoubtedly enacted countless pivots and iterations of the business model in order to evolve, adapt, and thrive over the years: McDonald's.
McDonald's
When thinking about the massive scope of McDonald's, it's both interesting and telling of how the BMC can still capture the essence of their business model. McDonald's is a global corporate cash cow requiring a rock solid model, but that doesn't mean it's the same one since the conception of the company.
With the many decades in operation, you can be sure that a McDonald's BMC would not look the same at the beginning as it does today. What originally started as a single burger joint on a street corner, now faces the challenges of global food service. Each time a new challenge or opportunity presented itself, the McDonald's business model was forced to pivot by observing the environment, developing an appropriate plan of action, and monitoring the progress accordingly.
Over the years the world has grown to experience many iterations of the McDonald's brand, whether it be an icon of American cuisine or an example of adaptation to dietary health. Flexible and ambitious, McDonald's always made sure the business model matched desired outcomes.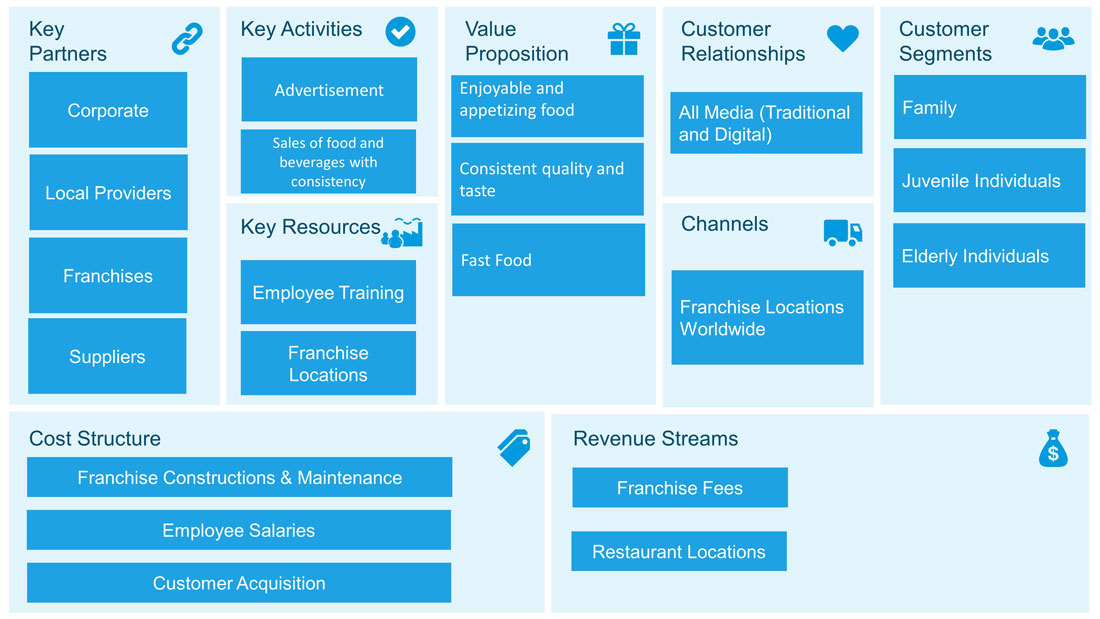 Uber
Uber is a ride hailing service that has caused massive disruption for conventional taxi services. By using digital technology and a specific standard for cars and drivers offered to customers, many taxi services and individual taxi drivers have found it hard to compete with Uber. In contrast to developed countries, taxi drivers in developing countries have been unable to meet the minimum vehicle standards to qualify as Uber drivers, competing them virtually out of the market. On the contrary, it has also attracted a new segment of people looking to use Uber as a part time job to earn extra money.
By looking at Uber using BMC Example we can see that its key partners include customers, drivers, payment processors, mapping data providers, and local authorities in the country it operates. Its key activities include developing its digital platform and algorithms, driver onboarding, marketing to balance demand and supply, and supporting customers using the service. The key resources of Uber are its digital platform, pricing and routing algorithms. Uber relies on a peer-to-peer (P2P) circular economy. Where customers and drivers continue to contribute to the Uber revenue in almost a loop. And since Uber is easier to use compared to conventional taxi services, both customers and drivers tend to often use it as a routine. For example, many drivers have completely switched to Uber from conventional taxi services and new drivers entering the market cannot imagine providing services without the model Uber provides. Similarly, customers can get used to the service in a way that the Uber service itself becomes a part of their daily routine.
The value proposition of Uber is provision of an on-demand taxi service for customers, whenever and wherever they need it. Uber fills the gap for the availability of an instant taxi service, without the need to necessarily ensure pre-booking or find a taxi manually. This offers user convenience, with various value benefits for both the customer and drivers, including the option to avail a cash free taxi service by customers, earning opportunities for drivers, and the supply of passengers and drivers through its ever-increasing base of users.
Uber reaches its customers and even attracts new drivers through its marketing and makes it easier for people to use its services through its app. Making it easy for the customers and drivers to communicate. Uber provides the utility of not just an on-demand service but also uses its algorithms to match supply and demand, find the shortest routes for customers and to allocate the closest driver. However, since Uber is primarily connecting customers and drivers, it also shifts much of its costs to the former, since it does not require owning and maintaining a large fleet of cars. It can also adjust its revenue based on the market its operating in, adjust price to match not only demand and supply but the purchasing power and market rates of the country or area it operates in.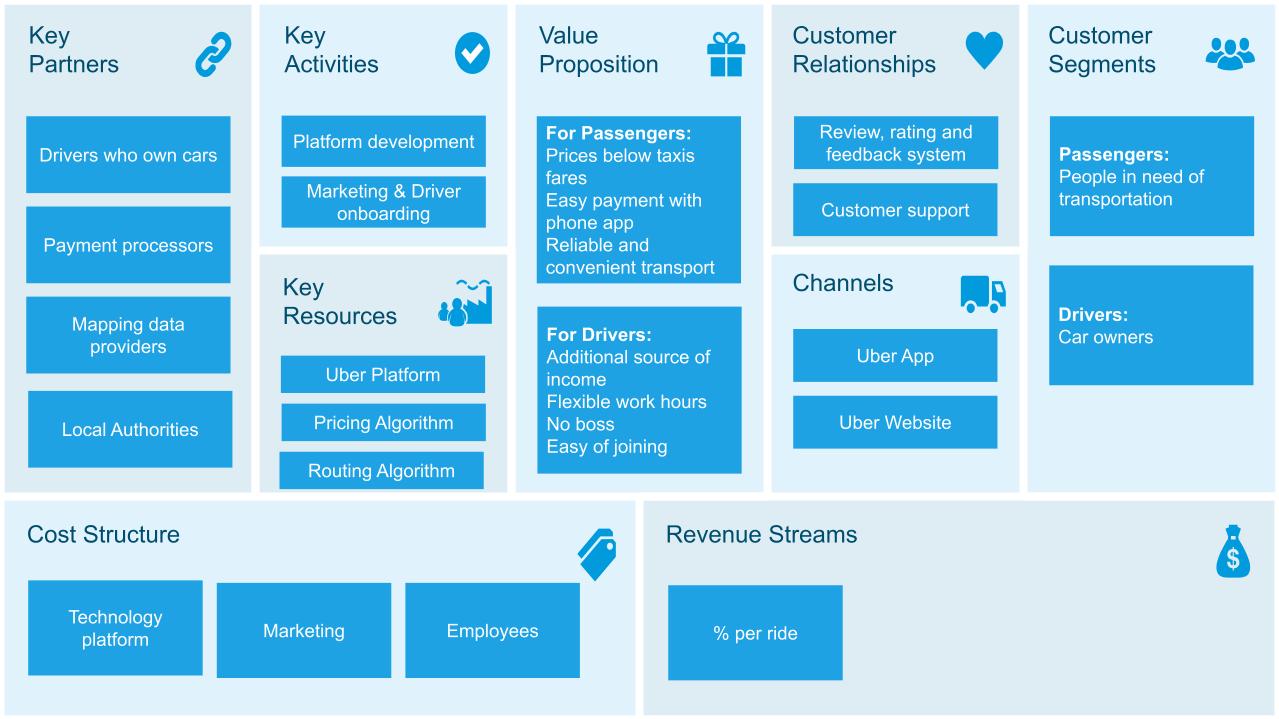 Amazon
When Amazon started in 1994, terms like e-commerce or online shopping were virtually unheard of. In fact, Amazon can be easily credited with being one of the first e-commerce platforms in the world. However, its customer led approach, with the convenience Amazon offered soon turned it into a famous retailer, which now has various other services attached to its name including an online video streaming platform called Amazon Prime, a cloud storage service (Amazon Drive), Kindle tablets, Fire TV, etc. However, to keep things simple, let's look at Amazon's BMC Example in the context of its retail store.
Amazon provides users with a range of services from its network of sellers. These sellers are rated by customers according to their experience and sellers that fail to adhere with Amazon's standards are removed from the platform. For example, during the start of the COVID-19 pandemic, many people began hoarding hand sanitizers and selling them at inflated prices online. Amazon was quick to act to remove such vendors.
The approach that Amazon has is based on not just to connect buyers and sellers but to 'continually raise the bar of the customer experience'. To ensure this, amazon often takes innovative steps that not only include improving its digital platform but also to ensure a steady supplier base. In 2019, Amazon announced $10,000 and three months worth of their gross salary to employees who quit their job and start a delivery service. Anticipating the need to expand its supplier base. Amazon has also been famous for offering competitive employee benefits and creating a corporate culture that encourages innovation and employee loyalty.
Through its colossal warehouses, customer centric approach and corporate culture that creates an atmosphere of employees to remain closely connected with the company, Amazon's revenue stream simply does not rely on its customer experience, workforce or supplier base but how it's able to create an environment where stakeholders, including customers and employees feel a sense of loyalty towards the company.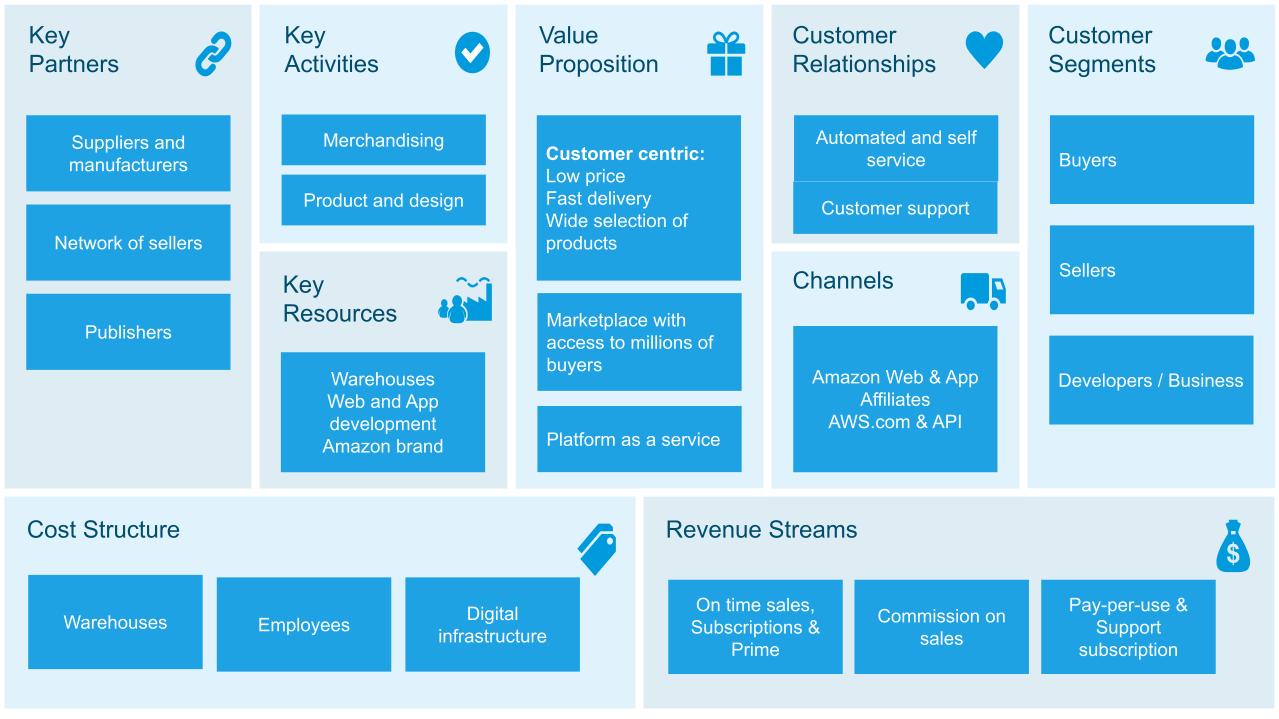 AirBnb
Over the years, AirBnb has been among companies that have leveraged their platform to transform conventional modes of doing business. Using its rating-based digital platform, AirBnb enables people looking to rent accommodation and hosts to be able to connect and become a part of its revenue stream with a few simple taps or clicks.
The platform has not only helped people who have conventionally been renting out their property but also enabled individuals with extra space to consider becoming hosts to earn extra money by renting out space for a short period of time. Similarly, the customers benefit from avoiding hefty rates of hotels and expensive accommodation options.
Like Uber, AirBnb has also been a disruptive force in the market it has operated. Using its digital infrastructure to connect travelers and hosts. While offering the value proposition of making money by utilizing underutilized space to hosts and offering low cost accommodation for people looking to save money. This model has enabled the company to surpass large hotel chains and make a major impact in the industry for rent and accommodation. In 2020 AirBnb was valued at $75 billion, surpassing giants like Hyatt Hotels valued at $2.07 billion and Marriott Hotels International valued at $10.57 billion.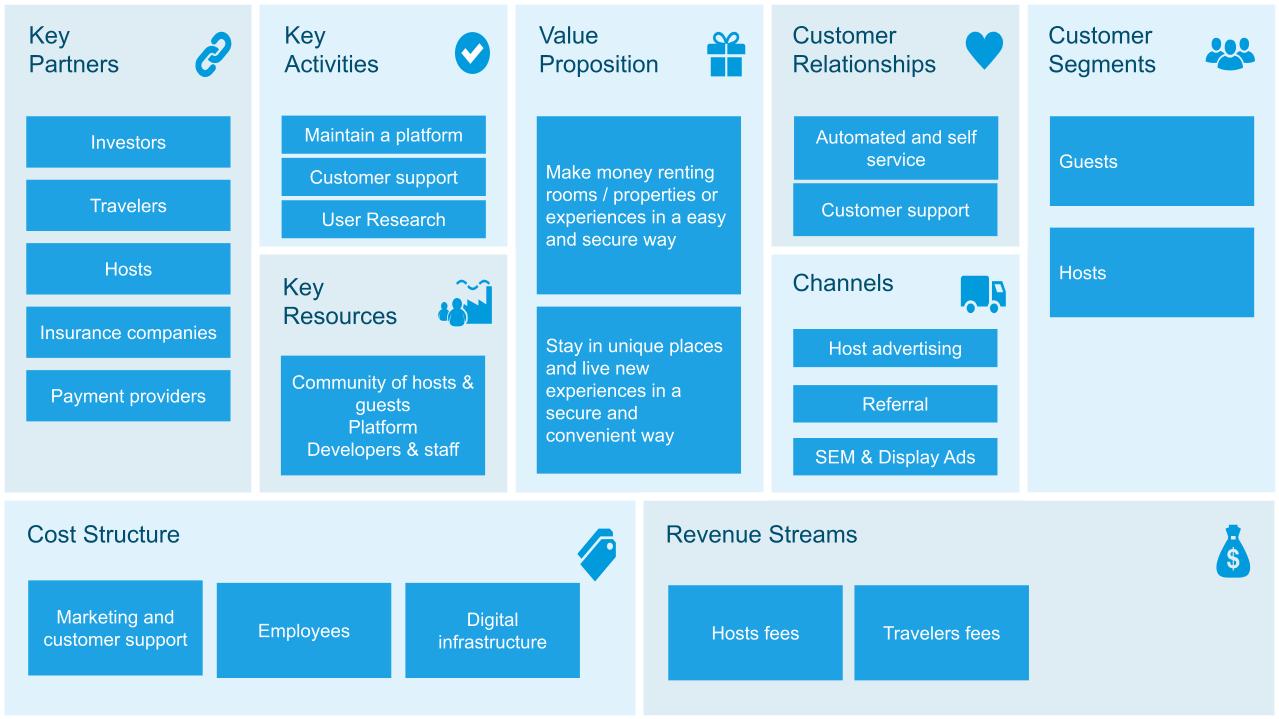 Netflix
From its launch in 1997 to 2006 in the United States, Netflix had a per-rental model per DVD. However, in 2007 it launched a subscription-based model that turned out to be more successful. Today, Netflix is available for streaming in over 190 countries, each with its own catalogue of Movies and TV shows.
According to Netflix's Business Model Canvas Example, its value proposition is the provision of on-demand entertainment regardless of where you are. It's subscription models provide access to one or more screens, with the utility to watch Netflix via mobile, tablet, laptop, gaming consoles, etc. Its packages include an economical package with a SD (480P) resolution limited to a single device to more exclusive packages offering Full HD (1080p) and Ultra HD (4K) and HDR (2160p) resolutions.
Needless to say, the market segment of Netflix is quite close to universal. Out maneuvering cable operators and conventional TV channels with exclusive on-demand content. While Netflix's partners have included broadcasters and production companies, it has recently been focusing on original content. Through Netflix's subscription-based model, there is very little need (if any) for customer interaction, unless a user is reporting a bug. The Netflix model focuses on self-service with a 'all you can eat' style subscription model, with algorithms constantly suggesting content to users to keep them engaged based on their viewing preferences.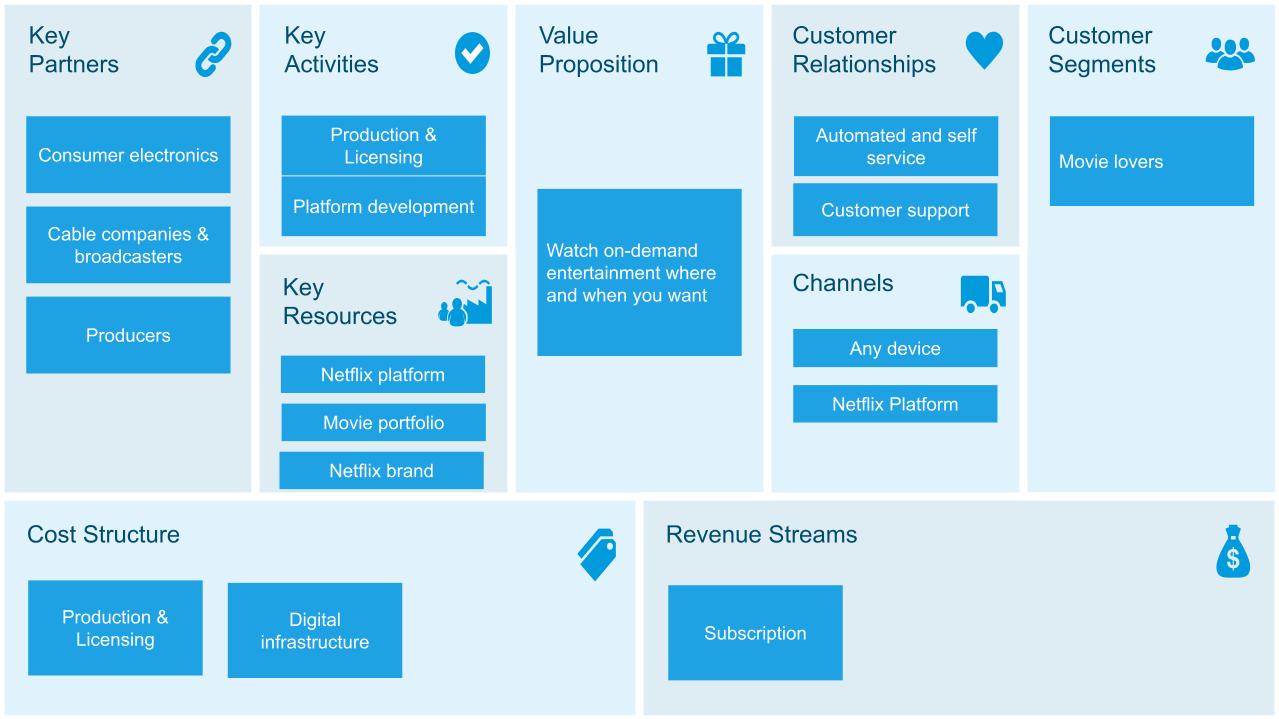 Ikea
Ikea's value proposition is to provide affordable furniture that is sturdy, aesthetic, and functional enough to cater for customer needs. In doing so Ikea claims to create a better everyday life for people who use its products. The Business Model Canvas Example of Ikea includes its vendors, suppliers, franchisees, and logistics partners making it possible to reach out to customers globally.
Unlike companies like Amazon, e-commerce is only part of Ikea's operations, as it has a robust physical presence in more than 50 countries. Over the years Ikea has undergone continuous product development with new furniture designs and a range of products being released on a consistent basis. This has helped the company to cater for the needs of different customer segments including families, businesses, and people who need something that is easy to use, assemble and disassemble.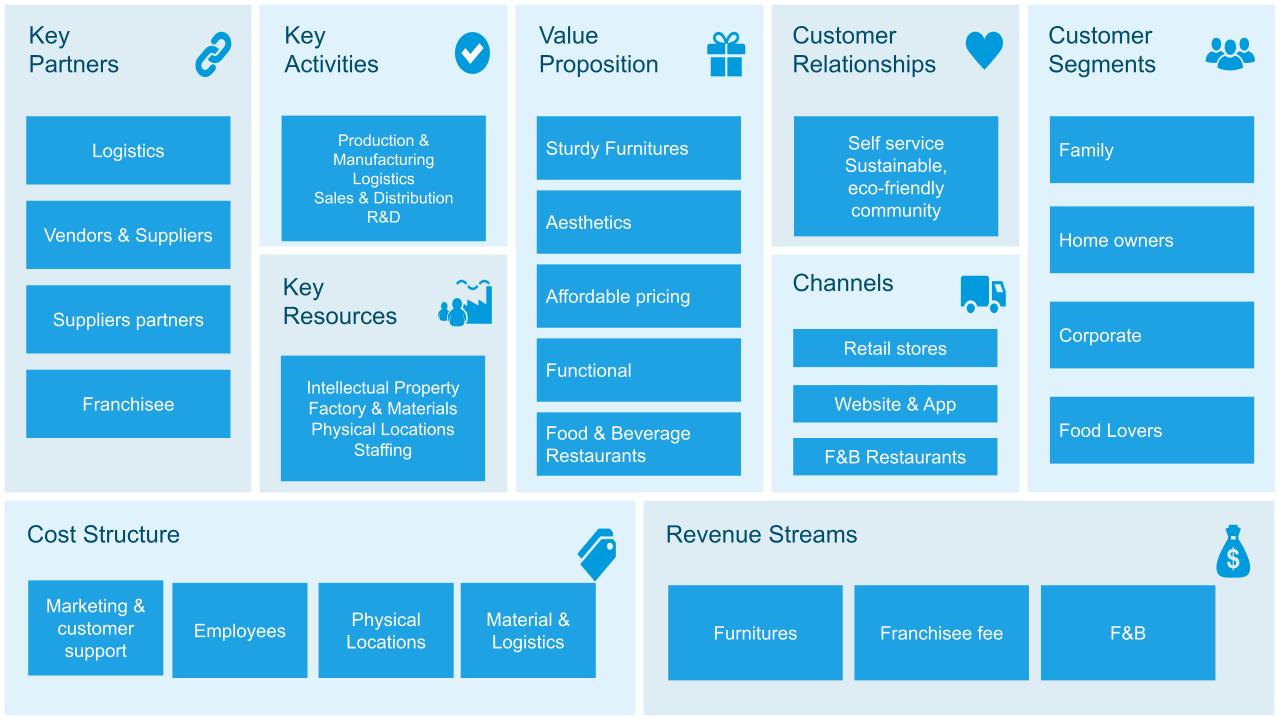 Source: BMCblogs & SlideModel